Tenth-Grader Starts Artisan Sourdough Bread Business in Midst of Pandemic
The COVID-19 pandemic's forced lockdowns in the spring of 2020 inspired many people to expand upon or acquire new hobbies.
For 16-year-old Anne Lindsay, a sophomore at Freeport High School in Sarver, Butler County, the time at home inspired her to start her own artisan, sourdough, bread-baking business.
She didn't have much baking experience, but has "always been the kid who bakes cupcakes for friends' birthdays," she said.
"My grandma sent me an article from the New York Times about how to start your own sourdough starter and bake bread. I made the sourdough starter and a few good loaves of bread, but then the loaves weren't rising, so I had to work through some issues," Anne recalled.
The issues included loaves not rising reliably and feeding the starter with the right amount and type of unbleached flour, because, as she explains, sourdough starter is a living thing.
Anne's inquisitive nature nudged her to experiment.
"I have always been a person that loves challenges. I had never even eaten sourdough bread before I started making it, but I thought, it's only water, starter, flour and salt — how can that make bread?"
After she perfected the process, Anne started baking about five loaves of sourdough bread a week in her home oven. She was eager to have a job to earn some spending money, but didn't want to work for someone else. So, she started her own business, called Annemade Bread, in November 2020.
Anne created a website and launched a social media presence on Facebook and Instagram. She also started an email list, where she informs customers when she's baking so they can reserve loaves in advance.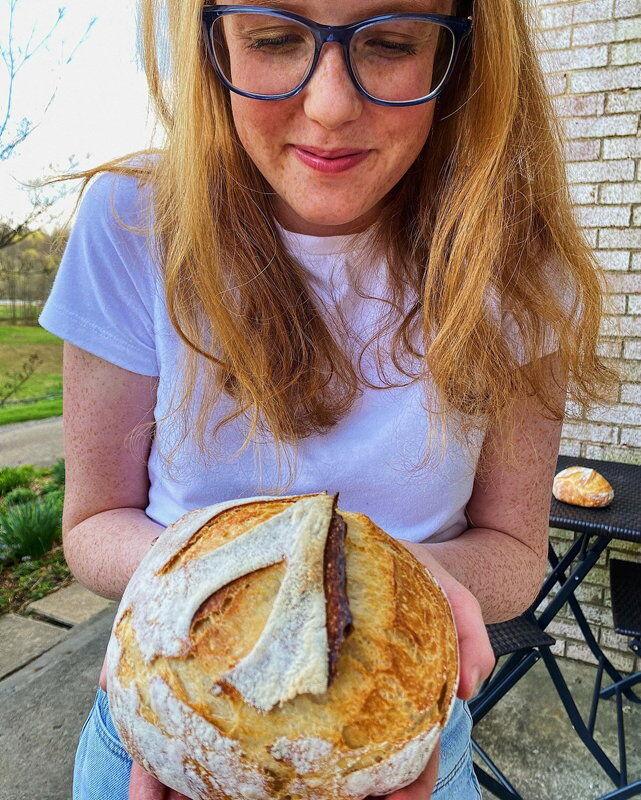 She admits that it's a balancing act. As a full-time high school student, she's active in a number of school activities, such as the school musical, mock trial team, business club, environmental club, Key club and book club. She also loves children — she teaches piano to young kids and volunteers at the Freeport Area Library, where she runs a storytime.
Breadmaking for friends and family was rewarding, but soon she longed to expand to local farmers markets. That meant she needed to obtain a baking license and be inspected by the state of Pennsylvania. She also needed to provide nutrition labels for her products, in case customers requested this information.
Fortunately, her parents were able to assist with navigating those hurdles. Her father, who manages a golf course, and her mother, who manages a local coffee shop, both had business experience, so it quickly became a family affair.
Her father found someone to inspect the baking site as well as the water that Anne used in the process.
Her mother assisted with the customer aspects such as online ordering and customer service.
In March of 2021, Anne decided to take a road trip to a sourdough bakery about an hour from her house. This baker made 180 loaves of bread a week in a wood-fired oven, and Anne wanted to gather knowledge and learn some best practices.
"He was the first person to take me seriously, not as a kid with a side hustle, but as an actual business owner. He told me about the different equipment that I could get to really expand my business," she said.
As a kid with a small savings, she started a GoFundMe campaign and raised $2,200 for a commercial oven. Around the same time, a local sportsmen's club donated a commercial mixer to Anne's fledgling business.
"Pretty soon, I had a micro-bakery in the garage," she said smiling.
Of course, cleanliness is paramount.
"I clean right before I bake and right after. My mom always gets on me to make sure it's in tip-top shape," she said.
By the summer of 2021, Anne was selling on average of 20 loaves of bread, for $8 a loaf, and other baked goods like cookies, soft pretzels and refined-sugar-free granola at several small farmers markets near her home.
She also takes special orders if they are placed in advance.
"I love baking loaves the most, because it's my signature thing. I like to create cool patterns on the top," Anne said.
She also adds fun colors to some loaves, putting natural powdered food dye in the dough while it's rising. They aren't flavors, she said, just an artistic touch.
Giving Back to the Community
Part of Anne's business model is giving back to local charities. In fact, she donates 20% of her proceeds to organizations like Rise Against Hunger, Global Fund for Women, Keep Pennsylvania Beautiful, American Humane Society, and the local chapter of the Audubon Society. So far, Anne has donated about $1,000 to these local charities.
"Since so many community members gave to me with the GoFundMe, I wanted to give back to the community in some way. I pick organizations that I'm passionate about and things that I feel closely connected to," Anne said.
Her drive and philanthropic spirit caught the eye of one of her high school teachers, who nominated her for the "18 Under Eighteen" list hosted by the Junior Achievement of western Pennsylvania. She was in the top 18.
"There were 36 candidates," Anne said. "They did Zoom interviews and picked the top 18. It's a wonderful honor."
She continued, "(The business) Annemade Bread will probably fizzle out after high school, but I love being an entrepreneur, so I think that I might do something with that path. This has helped me take a little step into entrepreneurship and knowing what it's like to run a business — budgeting and the people connection, more than just the product-making. I love connecting with people (in-person and) through the email list and social media."
Anne says her prospects for a future career are uncertain.
"I change what I want to do with my life on a month-to-month basis. Sometimes I want to be a lawyer, or a doctor, then an entrepreneur, I just don't know yet."
One thing is certain though — Anne has a bright and meaningful future ahead of her.
For more information about Annemade Bread, search for the business on Facebook or Instagram.
Source: https://www.lancasterfarming.com/farm_life/youth/tenth-grader-starts-artisan-sourdough-bread-business-in-midst-of-pandemic/article_e1a52a2b-dfde-5c55-b3c1-2bad6678adb6.html
We use cookies to provide you a personalized experience. How we do this is by analyzing user behavior on our site and sharing data with our advertising and analytics partners. You consent to our cookie policy if you continue to use this website.